Did You Know That Slips, Trips and Falls Are The Leading Cause of Both Employee and Guest Injuries?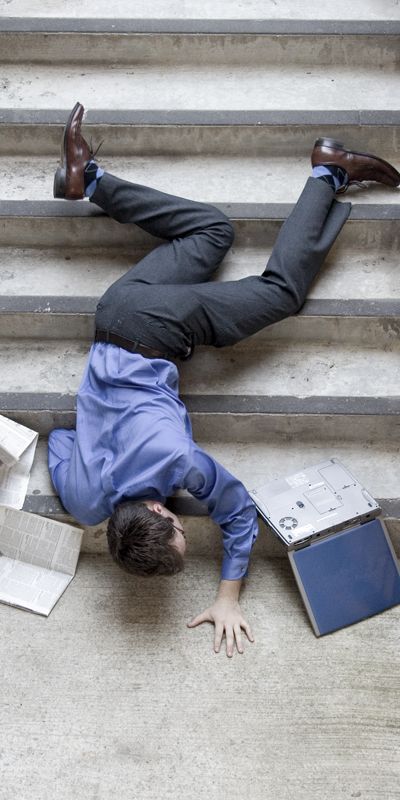 As long as there is gravity, people will fall. However, most falls are preventable. Falls account for over 8 million hospital emergency room visits every year, representing the leading cause of visits (21.3%*).
Russell Kendzior is one of the nation's leading safety consultants  specializing in walkway safety and is able to help you navigate the complex world of standards, codes and laws so you can protect your employees and guests. A wide range of professionals including Risk, Safety and Insurance managers with slip-and-fall claims need an experienced expert. Organizations, trade associations, and insurance companies that seek to prevent slips, trips and falls need one, too.
As the Founder and President of Traction Experts (formerly Traction Plus, Inc.), Russell Kendzior has more than 30 years of experience in slip, trip-and-fall prevention and applies his real-world experience to his work as a consultant. Unlike experts who rely on theoretical models, unrelated academic experience and inconclusive bodies of internet-based research, Russell Kendzior combines his educational background, practical, real-world experience and first-hand knowledge of current industry standards to render grounded, well-balanced and fair expert opinions.
REQUEST RUSS'S CV
We retained Russ in a floor mat trip and fall case and after a long and difficult battle we were able to overturn a lower courts summary judgment at the state supreme court, which lead to a $3.95 million settlement.
-Scott Blumenshine, Meyer and Blumenshine, Chicago, IL
I represented a Plaintiff in a slip-and-fall case that a previous attorney had withdrawn from, after retaining Russ we went on to win a $4.3 million jury verdict. It was the largest verdict in Texas history for a slip and fall.
– John Bush, The Bush Law Firm, Dallas, TX
Russ Kendzior is the Albert Einstein of the walkway safety industry.
-Benjamin Hall, Hall Law Firm,  Houston, TX
The first time I spoke to Russ about a potential case he talked me out of taking it! His frank and honest approach to case evaluation has lead me to use him on all of my slip-and-fall litigation matters.
-Wes Fowler, The Fowler Law Firm, PLLC, Memphis, TN
Previous
Next