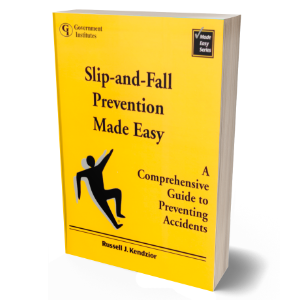 Slip-and-Fall Prevention Made Easy:
A Comprehensive Guide to Preventing Accidents (1999)
Backed by more than ten years of research, the author examines the cause-and-effect nature of slips and falls and describes the scope of slip-and-fall accidents.
Provides tools to understand the nature of the Accident Cycle
How to apply and use tools in your organization
How to recognize contributing factors and patterns in your own business environment
Read More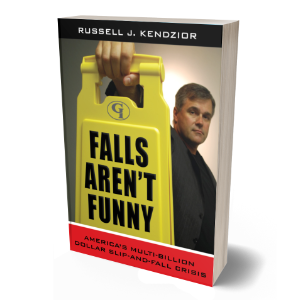 Falls Aren't Funny:
America's Multi-Billion Dollar Slip-and-Fall Crisis (2010)
In this book, Russell J. Kendzior provides a comprehensive look at one of the most pervasive yet seldom addressed safety problem facing our nation today.
Slip-and-fall accidents, what causes them, and what can be done to prevent them.
The financial costs and the industries hardest hit by slips and falls
The contributions of the insurance, legal, and manufacturing industries and how they worsen the problem.
Discusses how everyone from product manufacturers and property owners to the general public can help to reverse the trend of this increasingly expensive and dangerous problem.
Read More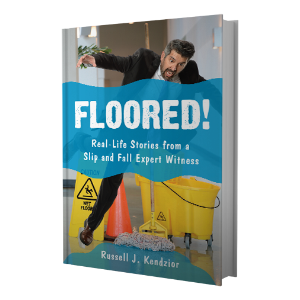 Floored!:
Real-Life Stories from a Slip and Fall Expert Witness (2017)
Rather than debate the truth behind slip, trip and fall litigation, Kendzior sets the record straight and provides the reader with a behind the curtain view of the people filing these lawsuits and the companies being sued.
Real-world stories of slip, trip, and fall Plaintiffs and Defendants
What can be done to prevent injuries and lawsuits
The view from the witness box
Lessons, settlements, verdicts and more!
Read More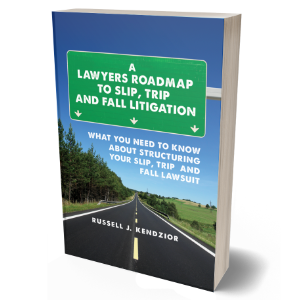 A Lawyers Roadmap to Slip, Trip and Fall Litigation:
A Lawyers Roadmap is designed to help you better understand and plan your case and is a useful tool for  attorneys, risk managers, claims managers or anyone who wants to have a better understanding of what constitutes the "Standard of Care" in slip, trip, and fall litigation.
Although these types of cases are different than other personal liability matters, having a road map will provide clarity on how to approach, structure, and manage your case.