About the Leading Slip, Trip and Fall Expert
Russell Kendzior is a leading authority, educator and safety consultant to the manufacturing, insurance, and safety industries. Internationally recognized slip, trip, and fall expert and author has represented both defense and plaintiff attorneys. He has consulted with numerous fortune 500 corporations and has been retained as an expert witness on more than 800 slip, trip-and-fall lawsuits.
Mr. Kendzior is experienced in the production and distribution of slip-and-fall prevention products including slip-resistant footwear, floor coverings, coatings, finishes and cleaning agents and is the Founder and Board Chairman of the National Floor Safety Institute (NFSI).
Russell has been a featured authority in numerous newspaper and magazine articles including the New York Times and the Wall Street Journal and has been interviewed for several radio and television broadcasts including "Good Morning America", ABC News "Inside Edition", "What Would You Do?", Sirius Radio, and PBS.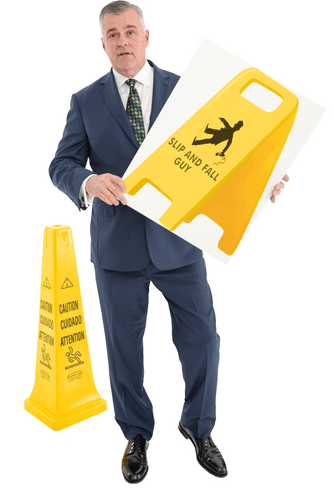 Russ In The Media
HIS BOOKS
"Floored! Real-Life Stories from a Slip and Fall Expert Witness" (2017)
"Falls Aren't Funny" (2010)
"Slip and Fall Prevention Made Easy" (1999)
CONTRIBUTING AUTHOR
Contributing Author of numerous trade periodicals including Chain Store Age, Occupational Health and Safety, ISSA Today, Texas Lawyer and various industry newsletters.
A.M. Best's Safety Directory "OSHA Self-Inspection Checklist: Walking & Working Surfaces"
Past Columnist, Professional Retail Store Maintenance Magazine (PRSM)
Past Columnist, Attorney at Law Magazine (Dallas Edition)* Help Has Arrived with Slip and Fall Prevention," LPM Insider (2018)* Trips, Slips & Falls: New National Standards Certain to Be a Game Changer," LPM Insider (2017)
MENTIONS
Featured authority in numerous newspaper and magazine articles including the New York Times and the Wall Street Journal
PRACTICAL TRAVELER; Marble Baths: Watch Your Step (2004)
BROADCAST APPEARANCES
Interviewed for numerous radio and television broadcasts including: "Good Morning America", ABC News "Inside Edition", "What Would You Do", Sirius Radio, and PBS*
I Agree?"/Trip, Slip & Fall: Ralph Nader Radio Hour (2017)