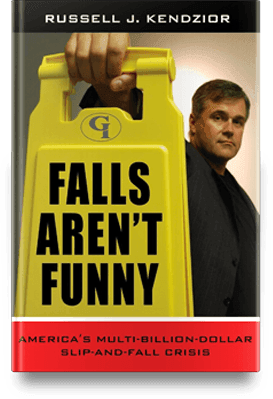 America's Fastest Growing Safety Crises
Slip and fall accidents are a growing problem. The total cost of these accidents now approaches $80 billion each year, and that number is expected to double within the next decade. In Falls Aren't Funny: America's Multi-Billion Dollar Slip-and-Fall Crisis, author Russell J. Kendzior provides a comprehensive look at one of the most pervasive yet seldom addressed problems facing our world today.
Takeaways:
*Examines the financial costs and the industries hardest hit by slips and falls and the heightened risk to the elderly population.
Looks at the causes for the numerous slip-and-fall accidents and injuries.
The contributions of the insurance, legal, and manufacturing industries and how they worsen the problem.
Outlines prevention of slip-and-fall accidents
Discusses how everyone from product manufacturers and property owners to the general public can help to reverse the trend of this increasingly expensive and dangerous problem.
"This is an excellent book. The author informs us of the important standards, codes, and industry regulations everyone, and especially business owners, should be aware of to make their premises safer. Any attorney representing people injured by individuals or companies who disregard common sense safety practices should also read this book."
– David Klibaner, Amazon customer
"This is a very informative book, written by one of the few real experts in the field. It should be read by anyone who owns a business, does business with the public, and has to make sure customers and employees are safe."
-Peter Donnelly
"Kendzior provides a well-referenced literature review that bridges empirical and theoretical insights on the subject….This volume's content likely will be useful to occupational and physical therapy students, chiropractic students, and graduate students of kinesiology. This book also may serve as a valuable reference for clinicians involved in personal-injury case management and litigation. Summing Up: Recommended."
-CHOICE
Previous
Next