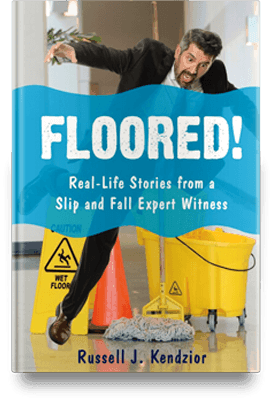 Not all Plaintiffs are Scam Artists. Not all victims are Frauds Seeking Cash.
Rather than debate the truth behind slip, trip and fall litigation, Kendzior sets the record straight and provides the reader with a behind the curtain view of the people filing these lawsuits and the companies being sued. This book is a great resource that explains what can be done to prevent the injury and thus the lawsuit through the eyes of a safety expert and stories of real-world victims.
The truth of the matter is, each year millions of personal injury lawsuits are filed by victims of a slip, trip and fall accidents, most of which are settled out of court. However, over the past decade there has been a noticeable rise in the average settlement as well as jury verdicts. As an expert witness, Russell J. Kendzior has been retained in more than 800 slip, trip, and fall lawsuits and has now compiled over 55 of his top cases in Floored!
"Russ Kendzior is the Albert Einstein of the walkway safety industry."
-Benjamin Hall, Hall Law Firm, Houston, TX
"I would highly recommend this book to readers of all professions, as everyday settings and all walks of life are presented in an easy to read and understand way."
-Anonymous Reader from Barnes & Nobel
Previous
Next